Clopay Garage Doors offers an incredible array of style options with best in class quality in every door they sell
America's Largest Garage Door Manufacturer
Clopay Garage Door provides stunning garage doors in a wide variety of styles and materials and we offer sales, service and installation on all models. If you're looking for a garage door to highlight your property and add real value, this may be the garage door maker for you! To set up an appointment with our garage door experts, please contact us for a FREE design consultation.
Coachman Carriage House Garage Doors
The perfect blend of beauty and practicality, these carriage house doors look like wood, but they are actually crafted of multiple layers of durable, low-maintenance steel and insulation topped with a woodgrain textured composite overlay.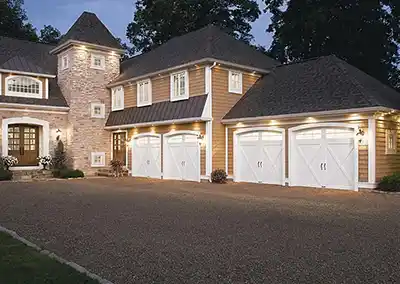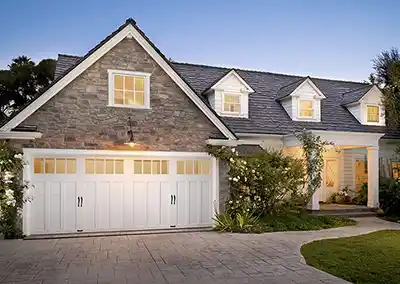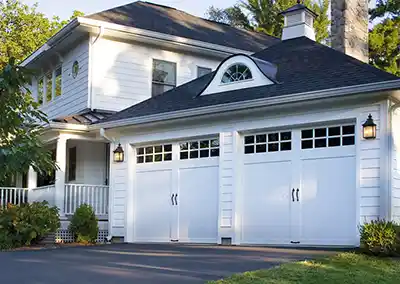 Overview
Coachman garage doors by Clopay feature the charming appearance of an old-fashioned swing-out carriage house door, but offer the built-in convenience of a modern overhead garage door. Throughout the design and construction, there is a recurring blend of beauty and practicality that is evident in the details, like the attractive yet durable steel and composite construction.
Construction Overview
Steel carriage house doors with 4-layer construction.
Insulation options include 2″ Intellicore polyurethane, 2″ polystyrene or 1-3/8″ polystyrene insulation. The R-values of these garage doors range from 6.5 to 18.4.
The steel skins of these doors are protected by the use of a tough, layered coating system, which includes a hot-dipped galvanized layer and baked-on primer and top coat.
WINDCODE door reinforcement product available for high wind load applications. (Click for details)
Design Overview
Four factory finish paint and overlay colors. Overlay and base colors can be mixed to achieve desired look.
Many glass options, including clear, seeded, rain, obscure, frosted and insulated.
Attractive beveled edge clip-in window grilles are removable for easy cleaning.
Comes complete with spade lift handles and step plates. Additional decorative hardware options available.
Clopay Garage Doors – Reserve Wood Limited Edition
Authentic carriage house designs combine historical charm and character with the convenience of automatic overhead operation. Eight carriage house designs, available in multiple wood species and top section/window panel designs that can be mixed and matched, painted or stained, to complement any architectural style and color scheme.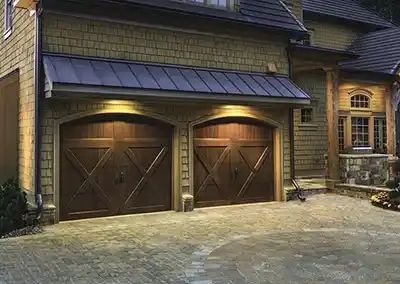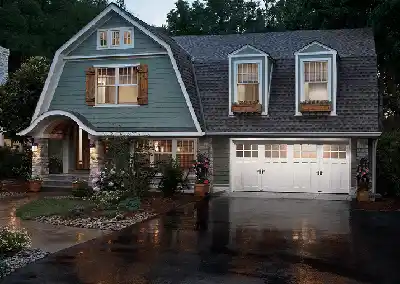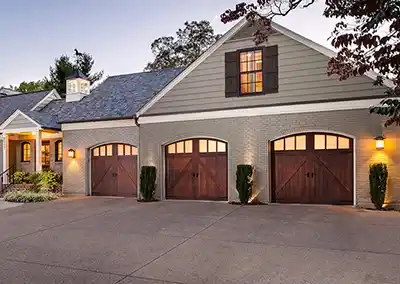 Overview
Reserve Wood Limited Edition garage doors are built with attention to detail by our skilled artisans, creating a warm style that welcomes you home time and time again.  With our 4- or 5-layer construction, these doors provide an exceptional blend of curb appeal, durability and energy efficiency.
Construction Overview
Handcrafted four or five-layer construction.
Energy-efficient insulation.
WINDCODE door product available for high wind load applications. (Click for details)
Design Overview
Eight base door designs.
Optional windows and decorative hardware.
Paint or stain-grade wood.
Cedar, Redwood, Fir, Meranti.
Factory finished doors are available in seven popular stains or painted white.
Cloplay Garage Doors – Gallery Steel Garage Doors
Clopay has taken the iconic raised panel steel garage door and given it a vintage feel by adding a grooved panel design, optional decorative windows and wrought iron hardware with many unique color choices including Ultra-Grain, Clopay's exclusive faux woodgrain paint finish.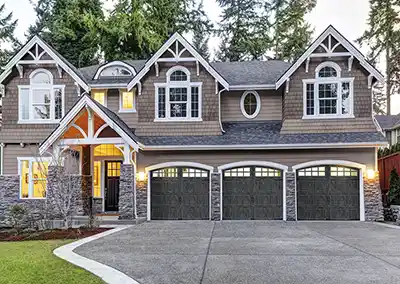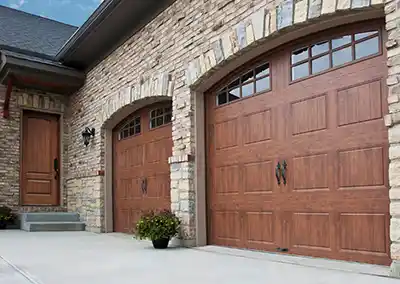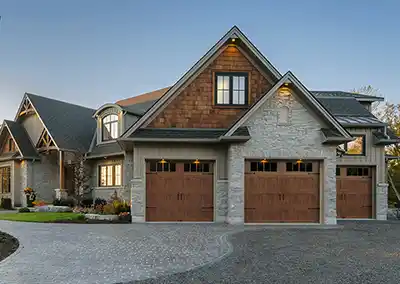 Overview
When you're looking for carriage house garage doors with the durability of steel, choose the Gallery steel doors by Clopay. Whether your vision for your home's exterior is elegant, sleek, unique, or somewhere in between, the versatile design of the Gallery can provide just the look you need to rejuvenate your home's exterior.
Construction Overview
View All Door & Window Combinations
Available in 3, 2 or 1-layer construction options.
Insulation options include 2″ or 1-3/8″ Intellicore polyurethane, 2″ or 1-3/8″ polystyrene or 1-5/16″ vinyl backed polystyrene.
Insulated door R-values range from 6.3 to 18.4.
The steel skins are protected by the use of a tough, layered coating system, which includes a hot-dipped galvanized layer and baked-on primer and top coat.
WINDCODE door reinforcement product available for high wind load applications. (Click for details)
Design Overview
Grooved-panel steel carriage house designs available in short- and long-panel options.
12 factory finish paint colors available, including almond, black, Ultra-Grain Oak Walnut Finish and more.
Multiple glass options available including acrylic, insulated, frosted, seeded, rain and obscure options.
Window grilles for easy cleaning.
Comes complete with spade lift handles and step plates. Additional decorative hardware options available.
The Right Set Up For Your Home
Our goal is to help you find the right garage door for your home so you get the right look and performance for your home. We take the time to explore options because your needs and requirements will always be unique, and they should be treated that way. With a wide selection of garage doors that we both sell and install, you can always count on us to provide just what your home needs. 
Quality You Can Rely On
Our primary goal is to provide top quality product and installation and we stand behind our work. Whether you are purchasing a new garage door or are using our installation services, you can count on quality that will last. We offer the best garage door installation service in Sonoma County so you can count on getting in done right.
"Keen Garage offers the best service because they are friendly, prompt, clean and very knowledgeable about what they do. Jeremie and his crew did an outstanding job installing my garage door."
So impressive! I was out of town and our spring broke. My wife's vehicle was trapped in the garage. We were so concerned because my wife had to pick up the kids in a few hours from church. I called Keen garage doors (based off their great reviews) and Jeramie answered the phone . I explained everything to him and he put my family on the urgent list. They miraculously got to my house within a couple hours and got us fixed up. My wife was able to pick the kids up and everything worked great! The Technician was friendly and helpful gave my wife options of what to do. I definitely recommend this company and will refer to my family and friends in the future. Thank you Jeramie and Keen garage doors!
Patricia Seffens
2022-08-09
I cannot say enough about how awesome this company is. I wanted to stay local, and decided on Jeramie and his crew. I am so glad I did! I am super indecisive about big purchases/changes, and couldn't settle on a style of door...mainly because I knew what I wanted but couldn't articulate it. Jeramie had me text a pic of my house and within a minute he sends me a photo of exactly what my brain was thinking. He's got a great eye for style! The door arrived within the expected timeframe and scheduling the install was a breeze. His crew arrived on time and did the whole install in less than three hours. Polite, professional, clean, and obvious experts of the craft! Then of course I had tried to keep everything basic...one remote, no keypad, etc., and instantly regretted not ordering both. I reached out to Jeramie and asked to order them, thinking a 4-6 week turnaround. Nope, his installer came right over and in 15 minutes, I'm all set with the new equipment. The new door is gorgeous; perfectly fits the look of the house; super quiet motor; and the quality is top notch! Thank you Keen!
chproperty chproperty
2022-06-20
On a Saturday late night my garage door could not close. I called several companies. One promised they would come to check but never showed up. Then I called Jeramie's company. Dereck came on Sunday morning and did a excellent job to fix it. Follow their suggestion, I decided to replace rusted springs and 20more years old opener. Of course another excellent job was done by his team. And the previous fixing cost was deducted from this bill. Definitely I recommend this company for any garage works
I live in Cloverdale and needed to get one of my garage door springs fixed. I called 3 places as I always get 3 estimates. As I was leaving a message for Jeremy, he texted me and said he was with a customer, but would call me as soon as he was done. He called within a few minutes and was very pleasant and informative. I made an appointment right away, good thing I did as the other 2 companies I called and left messages for, never called back. Keen Garage Doors will be my go to company moving forward!
Had new garage door opener installed. Very quick response and good pricing. Installation went well but turned out there was factory defect with motor. They were quick to replace and correct with no problems. Highly recommend.
Jennifer Terwilliger
2022-06-03
Keen is the best! They came through for me in a pinch as no other company would. Price was reasonable, installation of new garage door and motor went flawlessly (under not so ideal conditions - angry tenant being evicted who damaged the garage door was onsite), and the customer service top notch. THANK YOU JEREMY! Great company **********
LeeAnn Keever-Norton
2022-04-04
Our 13 year old garage door somehow stopped closing all the way one day!! I'm sure we made it worse by forcing it closed. Keen sent someone as soon as their schedule permitted and he showed up exactly when we were told he would. It only took him an hour and a half from start to finish to remove the old bent tracks and install new ones, and to lubricate them. So thankful for this company and their timely and excellent service.
Hollis Prichard
2022-03-22
I HIGHLY recommend Keen garage doors. I received a quote from a competitor who recommended a total garage door replacement. I called Keen to come out for a second opinion. They were able to come out quickly and tell me that I needed just a few replacement parts; no replacement door needed. They saved me a lot of money and were able to provide quick and timely service. Josh and Jeremy are honest reliable, skilled and very reasonable. I will be using Keen Garage Doors for all future garage door needs. Thank you Keen!
Couldn't have been either easier or more professional. Keen garage doors came to me on a personal recommendation by a mutual friend. Everything done on time and as promised. All communications were clear, timely, and professional. Highly recommended. Oh and the pricing was good too. But actually that's not the most important factor to me. Truly a pleasure to deal with. Last thing. Jeramie, the owner, is personally and actively involved. That is a big thing to me.
Great job guys thanks for the help.
5 Star Reviews (and counting)
Combined Years of Experience (and counting)
We install, repair and maintain all major brands of garage doors, gates and openers. For example, C.H.I, Wayne Dalton, Hormann Northwest Door, Clopay, Carriage House, Alumador, Martin, Liftmaster, Linear, Genie, Chamberlain, Craftsman and more.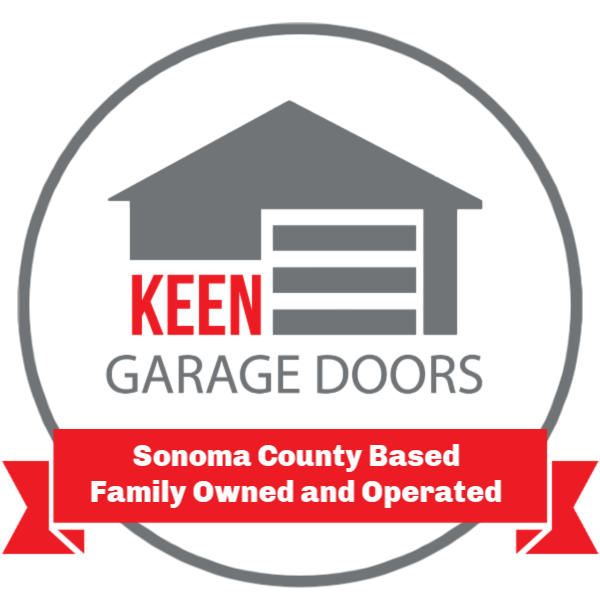 We offer garage door repair, sales and installation across the San Francisco north bay area including:
Sonoma County: Annapolis, Bodega Bay, Boyes Hot Springs, Camp Meeker, Cloverdale, Cotati, Duncans Mills, El Verano, Eldridge, Forestville, Fulton, Geyserville, Glen Ellen, Graton, Guerneville, Healdsburg, Jenner, Kenwood, Monte Rio, Occidental, Penngrove, Petaluma, Rio Nido, Rohnert Park, Santa Rosa, Sebastopol, Sonoma, Windsor
Marin County: Belvedere Tiburon, Bolinas, Corte Madera, Dillon Beach, Fairfax, Forest Knolls, Greenbrae, Inverness, Lagunitas, Larkspur, Marshall, Mill Valley, Nicasio, Novato, Olema, Point Reyes Station, Ross, San Anselmo, San Geronimo, San Quentin, San Rafael, Sausalito, Stinson Beach, Tomales, Woodacre
Napa County: American Canyon, Angwin, Calistoga, Deer Park, Napa, Oakville, Pope Valley, Rutherford, Saint Helena, Yountville
Lake County: Lakeport, Clearlake, Middletown, Hidden Valley Lake, Clearlake Oaks, Kelseyville, Lower Lake, Nice, Lucerne, Upper Lake, Cobb