Frequently Asked Questions
Common garage door questions and answers
We get asked a lot of garage door questions. Garage doors are a critical element of your home in terms of curb appeal, safety and convenience. As such, if you have questions that aren't on this list, feel free to reach out using our contact form and we'll be happy to help!
What options should I consider for a new garage door?
A new garage door is a significant expense and will typically last for 20 years or more with proper maintenance. So it's a long term investment in your home for both convenience and home value. It's a good idea to take the time to consider all the available options available. Here are some things to get you started:
Style
The first consideration should be the style. There are many choices in style but most fall into 3 categories: traditional, carriage house and modern. The style you choose should match the architecture of your home. A traditional door typically features square or rectangular raised panels and will work with just about any house architecture. Carriage house presents a more rustic look, often resembling barn doors and is a great choice in a rural setting. Modern doors can be very stylish and go well with a modern or contemporary home architecture. Of course, all these styles come in a range of costs so take the time to explore what fits your situation and budget.
Insulation
Adding insulation is an upgrade worth considering, especially if you use your garage as a workshop or hobby room. Adding insulation can make the garage space more comfortable during hot or cold weather. It will also help reduce your heating and cooling bills. Insulation is available in various "R" values so ask your garage door sales pro for more info.
Windows
Garage door windows are often overlooked as a design option, but they can really make a garage door pop for a modest upgrade cost. They are available in a ton of window styles and glass treatments allowing light in while maintaining privacy. Windows are a great opportunity to add your own sense of style to the garage door and add value to your investment.
For more information, check out our Garage Door Buying Guide or contact our garage door sales team.
Why does my garage door stop and go back up?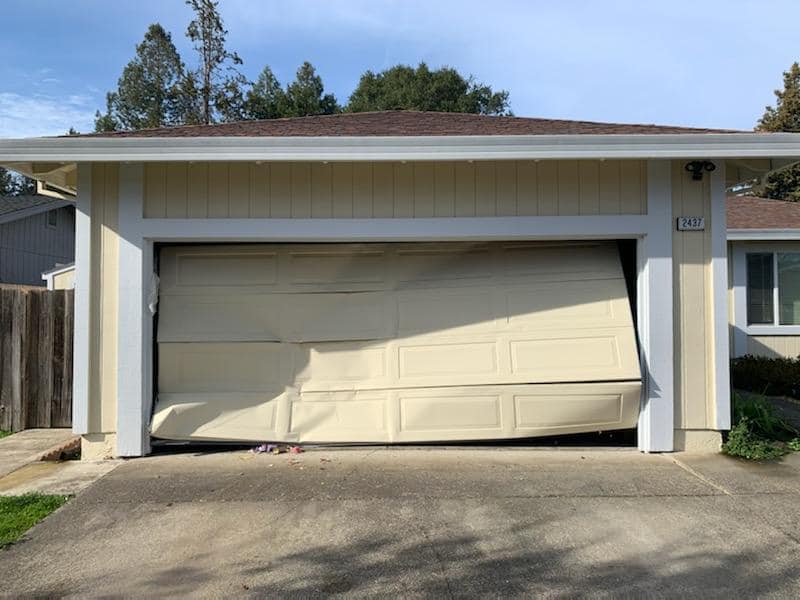 This is one of the most common garage door questions we get. Under federal law, your garage door must be equipped with auto reverse safety feature to prevent a door closing on people, pets or other obstructions. A garage door opener has a sensor that detects resistance when it's closing and automatically reverses when it does.
There are several things that can trigger the auto reverse. The obvious reasons include an object blocking the door like a bicycle or a box. People or pets would also cause the door to reverse (thankfully). In addition to that, if there are problems with your doors track alignment or other door system faults that cause resistance when closing, the opener may interpret that as an obstruction and initiate an auto reverse. Finally, a faulty opener controller board could also cause unpredictable behavior. If there are no obvious obstructions and your door reverses for unknown reasons, even sporadically, it's best to call for service to avoid any safety risks.
Why should a garage door be repaired by experts?
A properly functioning garage door looks simple enough, panels, rollers, springs, tracks. No problem. But the reality is that garage doors are heavy and as such involve a lot of forces, particularly the torsion springs. These springs, which are often in need of repair, are under a tremendous amount of tension and if the force is released unexpectedly, bad things can happen. In addition to the springs, the other components of your garage door system routinely see plenty of weight and pressure and can easily crush fingers if not handled correctly.  So the number one reason to have your door serviced by a professional is safety.
The other consideration is the value of your garage door. A garage door that is not serviced properly can lead to complete garage door failure resulting in damage to vehicles and property inside the garage. It could also require a whole new garage door installation which will be much more expensive than any service call.
Our advice: don't mess around with your garage door. For safety's sake alone, always call a garage door repair professional for service.
Is replacing a garage door spring dangerous?
Yes. Garage door springs are used to provide assist in opening the garage door by storing potential force in the spring when the door is closed. When a garage door spring fails, it can unleash a tremendous amount of force causing harm to property or people nearby. Installing or replacing a spring presents similar danger when the proper care is not used.  Play it safe, always get a professional to inspect and replace your springs.
My garage door won't close. Is there a way to close it manually?
Yes, but once again, start with caution. If your door won't close all the way or won't close at all using the automatic garage door opener, the first question is why? If the opener seems to be working but the door is "auto-reversing" at some point, the opener is either defective or is sensing an obstruction. Check for objects that may be blocking the garage door path. If there are no obvious obstructions, check for broken springs. A broken spring won't provide the assist the opener needs and the opener will interpret that as an obstruction, resulting in the auto reverse.
You can try disengaging the door from the opener by pulling the manual release cord if the spring is broken or there is some other defect. Important: make sure someone is preventing the door from crashing down when the release is pulled to prevent any damage or harm. Make sure there are no children or pets in the area!
When should I replace a garage door with a new one?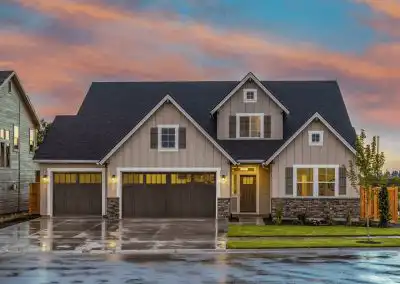 As garage door questions go, this is one of the trickier ones to answer. Like many expensive items we own, a roof, a car or major appliances, we are often faced with the repair or replace decision. Garage doors are no different – a new garage door installation is not a trivial expense. There are a few considerations when it comes to replacing or repairing your garage door:
Damage to The Garage Door System
Damage to a garage door system can range from some slight paint peeling to major, structural damage than can pose safety hazards. If the damage to your door is minor, maybe a dent in one or more panels, cracks or paint issues, a repair may be a cost-effective solution. For many homes, the garage door accounts for a large percentage of what your home looks like from the road, having a direct impact on curb appeal. So repairing some dings and paint issues can be money well spent.
Major damage to structural components, which can pose safety hazards, can be more expensive and need to be weighed against the cost of replacement. A broken spring can be a routine repair, but if there is additional damage to the system, the repair cost may begin approaching replacement cost. In this case, the homeowner will want to factor in the age of the garage door in making their decision. A professional garage door repair service can evaluate your situation and provide an estimate for repair versus replacement.
Age of Garage Door
Garage doors last between 15 and 30 years on average depending on many factors including usage, climate and quality of components. If your garage door is getting on in years, you may want to consider replacing the door rather than repairing for anything other than minor repairs. Remember, a new garage door has an excellent return on investment for home upgrades.
Cost
Of course, cost is always a factor. A $200 repair versus a $2000 new door may be a no-brainer. But the cost must also be weighed against the age of the door and the cost to replace. Once again, your local garage door experts can provide pricing guidance and advice on how best to proceed.
What are the questions to ask when buying a new garage door?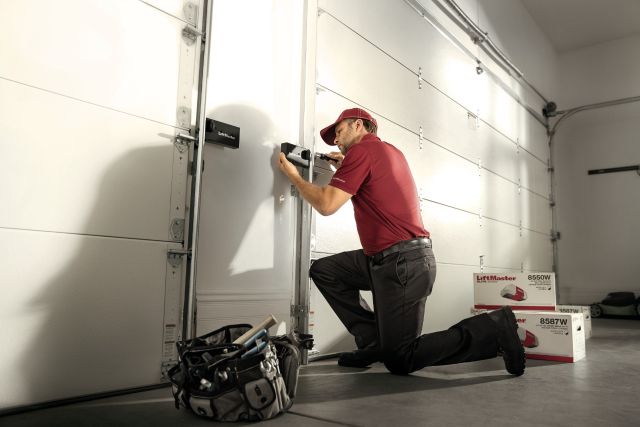 Getting a new garage door is not a trivial purchase. A new garage door installed is not cheap and there are plenty of options to consider. Read our post on how to find the best garage door contractor. Here are some questions to get your thought process started:
What manufacturers do you typically use?
Which garage door materials do you recommend?
What kind of garage door do I need?
Which options should I consider?
How long can I expect the garage door to last?
How many employees will be working in my home?
Do you recommend purchasing an insulated garage door?
What is the timeline for installing my new garage door?
What type of guarantee or warranty is available if my garage door is damaged after installation?
Do I need a new garage door opener?
Can you just replace a garage door opener motor?
If you are replacing your existing garage door opener with an identical model, it may be possible to reuse existing parts like the rail, brackets and chain. However, even a new garage door opener from the same manufacturer may have subtle differences in parts and/or installation procedure, especially if the opener is several years old. Here are some reasons to not use old parts:
It may seem that using the old hardware will make installation faster, but any deviation in parts or install process could set you back to the start and make the process longer
If the installation procedure is not followed exactly, you may run into a problem that is difficult to diagnose and the manufacturer support is more challenging.
Newer garage door openers use more nylon components which are quieter. You lose this benefit if you use older, metal components
How much does a garage door change the value of my home?
A study found that a new upscale garage door has the best return on investment (ROI) of any home improvement project including kitchen and bath remodels. In fact, the study found that in the Santa Rosa, CA area, average ROI was 176.5%! So if you were to spend $5000 dollars on a new garage door, you could expect to see an increase of $8825 on your home value. And that was in 2018. The point is that an updated garage door has a very positive impact on the value of your home. And this makes sense – a garage door is often hightly visible from the a street contributing a large amount to curb appeal.
"Hands down the best service I have ever received. Jeremy and his crew are super responsive and provide excellent customer service. "
So impressive! I was out of town and our spring broke. My wife's vehicle was trapped in the garage. We were so concerned because my wife had to pick up the kids in a few hours from church. I called Keen garage doors (based off their great reviews) and Jeramie answered the phone . I explained everything to him and he put my family on the urgent list. They miraculously got to my house within a couple hours and got us fixed up. My wife was able to pick the kids up and everything worked great! The Technician was friendly and helpful gave my wife options of what to do. I definitely recommend this company and will refer to my family and friends in the future. Thank you Jeramie and Keen garage doors!
Patricia Seffens
2022-08-09
I cannot say enough about how awesome this company is. I wanted to stay local, and decided on Jeramie and his crew. I am so glad I did! I am super indecisive about big purchases/changes, and couldn't settle on a style of door...mainly because I knew what I wanted but couldn't articulate it. Jeramie had me text a pic of my house and within a minute he sends me a photo of exactly what my brain was thinking. He's got a great eye for style! The door arrived within the expected timeframe and scheduling the install was a breeze. His crew arrived on time and did the whole install in less than three hours. Polite, professional, clean, and obvious experts of the craft! Then of course I had tried to keep everything basic...one remote, no keypad, etc., and instantly regretted not ordering both. I reached out to Jeramie and asked to order them, thinking a 4-6 week turnaround. Nope, his installer came right over and in 15 minutes, I'm all set with the new equipment. The new door is gorgeous; perfectly fits the look of the house; super quiet motor; and the quality is top notch! Thank you Keen!
chproperty chproperty
2022-06-20
On a Saturday late night my garage door could not close. I called several companies. One promised they would come to check but never showed up. Then I called Jeramie's company. Dereck came on Sunday morning and did a excellent job to fix it. Follow their suggestion, I decided to replace rusted springs and 20more years old opener. Of course another excellent job was done by his team. And the previous fixing cost was deducted from this bill. Definitely I recommend this company for any garage works
I live in Cloverdale and needed to get one of my garage door springs fixed. I called 3 places as I always get 3 estimates. As I was leaving a message for Jeremy, he texted me and said he was with a customer, but would call me as soon as he was done. He called within a few minutes and was very pleasant and informative. I made an appointment right away, good thing I did as the other 2 companies I called and left messages for, never called back. Keen Garage Doors will be my go to company moving forward!
Had new garage door opener installed. Very quick response and good pricing. Installation went well but turned out there was factory defect with motor. They were quick to replace and correct with no problems. Highly recommend.
Jennifer Terwilliger
2022-06-03
Keen is the best! They came through for me in a pinch as no other company would. Price was reasonable, installation of new garage door and motor went flawlessly (under not so ideal conditions - angry tenant being evicted who damaged the garage door was onsite), and the customer service top notch. THANK YOU JEREMY! Great company **********
LeeAnn Keever-Norton
2022-04-04
Our 13 year old garage door somehow stopped closing all the way one day!! I'm sure we made it worse by forcing it closed. Keen sent someone as soon as their schedule permitted and he showed up exactly when we were told he would. It only took him an hour and a half from start to finish to remove the old bent tracks and install new ones, and to lubricate them. So thankful for this company and their timely and excellent service.
Hollis Prichard
2022-03-22
I HIGHLY recommend Keen garage doors. I received a quote from a competitor who recommended a total garage door replacement. I called Keen to come out for a second opinion. They were able to come out quickly and tell me that I needed just a few replacement parts; no replacement door needed. They saved me a lot of money and were able to provide quick and timely service. Josh and Jeremy are honest reliable, skilled and very reasonable. I will be using Keen Garage Doors for all future garage door needs. Thank you Keen!
Couldn't have been either easier or more professional. Keen garage doors came to me on a personal recommendation by a mutual friend. Everything done on time and as promised. All communications were clear, timely, and professional. Highly recommended. Oh and the pricing was good too. But actually that's not the most important factor to me. Truly a pleasure to deal with. Last thing. Jeramie, the owner, is personally and actively involved. That is a big thing to me.
Great job guys thanks for the help.
5 Star Reviews (and counting)
Combined Years of Experience (and counting)
We install, repair and maintain all major brands of garage doors, gates and openers. For example, C.H.I, Wayne Dalton, Hormann Northwest Door, Clopay, Carriage House, Alumador, Martin, Liftmaster, Linear, Genie, Chamberlain, Craftsman and more.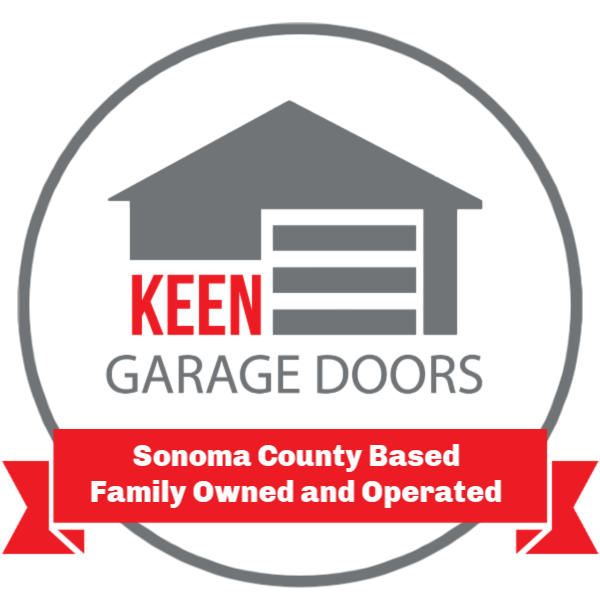 We offer garage door repair, sales and installation across the San Francisco north bay area including:
Sonoma County: Annapolis, Bodega Bay, Boyes Hot Springs, Camp Meeker, Cloverdale, Cotati, Duncans Mills, El Verano, Eldridge, Forestville, Fulton, Geyserville, Glen Ellen, Graton, Guerneville, Healdsburg, Jenner, Kenwood, Monte Rio, Occidental, Penngrove, Petaluma, Rio Nido, Rohnert Park, Santa Rosa, Sebastopol, Sonoma, Windsor
Marin County: Belvedere Tiburon, Bolinas, Corte Madera, Dillon Beach, Fairfax, Forest Knolls, Greenbrae, Inverness, Lagunitas, Larkspur, Marshall, Mill Valley, Nicasio, Novato, Olema, Point Reyes Station, Ross, San Anselmo, San Geronimo, San Quentin, San Rafael, Sausalito, Stinson Beach, Tomales, Woodacre
Napa County: American Canyon, Angwin, Calistoga, Deer Park, Napa, Oakville, Pope Valley, Rutherford, Saint Helena, Yountville
Lake County: Lakeport, Clearlake, Middletown, Hidden Valley Lake, Clearlake Oaks, Kelseyville, Lower Lake, Nice, Lucerne, Upper Lake, Cobb