New Garage Door Considerations
This garage door buying guide is designed to help you get started on your journey buying a new garage door. You might imagine that the garage door industry is not very big. The truth is, the garage door manufacturing industry in the United States alone is worth more than $3 billion every single year!
Garage doors are available in a wide variety of styles and types and there is almost certainly a garage door that will work perfectly for you. However, it can be tricky to find the perfect garage door. When considering a new garage door installation, the first thing you have to understand is what all of your options are. We've provided some information below to get you started.
Different Types of the Garage Doors
When it comes to garage doors, there are basically two things to keep in mind. One is the functional type of garage door, including considerations like choice of material and insulation. The other is the style of the garage door. There are a number of functional types of garage door but we'll focus on the most common.
You are probably familiar with what is called a sectional garage door. Sectional garage doors have several horizontal panels. You or a motor can then push the garage door up and the panels will hinge so that the door ends up parallel to the ceiling of your garage.
The other most common type is the rollup garage door. These are more common in commercial applications but can be found in some residential applications as well. In fact, rollup garage doors are basically like sectional garage doors but with a higher number of panels. Rollup garage doors are basically dozens of small horizontal panels with hinges in between them.
There are also side-hinged garage doors that are like giant regular doors. They swing horizontally on hinges to open and close. They can be a good choice if there is no room inside the garage for the garage door when it's opened.
Other Option Considerations
The design of your garage door is only one of the functional things to keep in mind. You also need to decide what material you want your garage door to be made out of. Additionally, you have to account for whether or not you are going to insulate your garage door. The material that you choose for your garage door will greatly affect its lifespan. Most garage doors are made of steel or wood. Many steel garage doors are available with textured wood patterns providing the durability of steel with the warm wood appearance.
Regardless of the kind of garage door you get, you will need to provide periodic maintenance including painting to protect your investment. You will need to paint a wood garage door more often than steel. Steel will last a long time and need less maintenance.
Insulated panels are another popular option. If you invest in insulation for your garage door, then your garage can become another comfortable place to hang out. Otherwise, it will probably be uncomfortable during the hottest and coolest times of the year.
Garage Door Styles: Traditional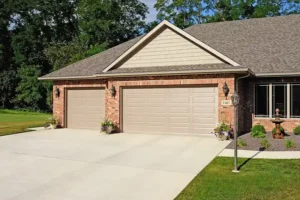 The traditional style include raised-panel garage doors offering a clean, classic look for your home's exterior. These garage doors are characterized by symmetrical, raised rectangular panels.
The typical traditional garage door will offer choices of the rectangle shape itself such as square, rectangle and short rectangle. Other options will include windows with different glass style options, colors and garage door panel insulation. Most garage door makers offer a variety of products in this class, with various options for construction and design including insulated and natural-wood options.
Garage Door Styles: Carriage House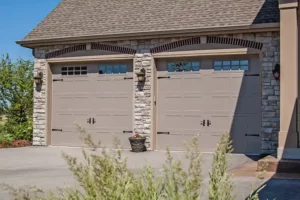 Carriage House doors, sometimes know as "ranch style" doors are very popular in the United States. They are often made out of wood or steel that imitates the appearance of wood and presents a warm ranch or farm feel. This class of garage door offers an incredible array of styles, limited only by the imagination.
The panels often resemble barn doors adding a rustic feel to the door. A wide variety of window styles are available and very common with this style. The door hardware really adds a detail to these doors that make them pop visually. If you are looking for something a little more than traditional while maintaining a warm inviting appearance, the carriage house style might be right for you. There are tons of choices in style, colors and options to fit every taste.
Garage Door Styles: Contemporary or Modern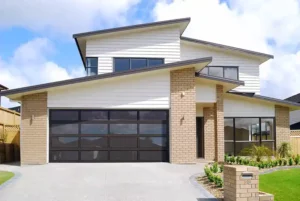 Contemporary garage doors are the result of modern advances in technology and aesthetics. They are much more likely to be asymmetrical than any other kind of garage door. You can see that same kind of asymmetry as a feature in modern art. These doors are the result of thinking outside of the box. That means that everything, including the color and the materials, is up for discussion.
The contemporary style door allows for almost any combination of materials and visual elements that are best suited for homes that feature a modern architectural design. The stunning visuals really add to the overall appearance of the modern home.
Choices, Choices and More Choices!
We don't usually think too much about garage doors – at least while they're working properly. But when the time comes to replace one, homeowners quickly realize that there are a lot of choices for replacement doors including budget and style. This garage door buying guide provides an introduction to some of the features and styles to consider. We encourage you to check out our preferred garage door vendors including C.H.I, Northwest Door, Carriage House and Clopay to see all they have to offer. As always, our team is ready and available to help with any questions you may have, click here to get in touch. Happy garage door shopping!
"Hands down the best service I have ever received. Jeremy and his crew are super responsive and provide excellent customer service. "
Thank you, Skyler, you are the BEST. Our garage gate opener stopped working. We live in Tiburon, and our neighbor advised us to call Keen Garage Doors. Skyler is just impressive. He is talented, professional, efficient, and courteous. This company is so HONEST. They reduced the price of the quote as Skyler did not need to install a panel they ordered for us! How many companies have such integrity? Keen Garage Doors is the kind of business users should appreciate. If you need garage doors, gate installation, or repair, call them, and you will be glad you did. Leslie, the lady who scheduled our appointment, was very friendly, joyful, and always available. The owner, Jeremy, is very polite and knowledgeable. Thank you with all my heart! If I could give Keen Garage Doors 100 stars, I would. We will always recommend and use Keen Garage Doors.
Charles Applegate
2023-03-30
Jeramie and Josh were great - responsive, knowledgeable, honest, clear communicators. They laid out my options without trying to sell me things I didn't want, and made sure that they understood my needs, including a few small custom modifications to the height of the door when open. Their workmen were on-time and friendly and polite and they worked fast and cleaned up afterwards. Best of all, they were affordable and did absolutely gorgeous work. Five stars ain't enough; they get a ten out of ten.
After feeling like the other garage door salespeople were not giving me any information and simply trying to sell me the most expensive door they could, a friend recommended Keen Garage Doors. Keen was the opposite - he told me exactly what the difference was with each option, and I ended up with the perfect door for our home. There was an issue with one of the panels arriving scratched and dented. Still, Keen immediately ordered a replacement and fixed the problem without me having to worry about any of it. Highly recommended!
Dennis Watanabe
2023-01-14
The old door was removed and the new one installed in about four hours. Derek was very knowledgeable, courteous, and efficient in his work. Jeremy and the office staff was very supportive, helpful, and easy to work with. Five stars for sure.
They have great customer service. Speaking to Josh on the phone was a pleasant experience. I first contacted TURBO GARAGE DOORS and they charged me an exorbitant price. I then contacted Keen and they gave me a price I could understand. If I had a garage door issue come up in the future, I would call them again. Thanks!
I messaged the owner regarding an issue with our garage door not closing, he asked a few quick questions questions and because it was a few days before Christmas he was able to squeeze us in. They arrived on time and fixed the door same day!!! They took a situation where I had so much anxiety about it cost an arm and a leg to fix when in reality it took a few hours and was way cheeper then I expected!!! 10/10 recommend.
These guys for your garage doors and openers are the go to people to have your work done first cabin. Thank you Jeramie!
Hi Jeramie, I wanted to take a few minutes to thank you for the job that you and your team completed yesterday afternoon for me. I've been an estimator and a project manager for a pump and well company in Sonoma County for 11 years and your customer service should be commended. After e-mailing your company through your website last Saturday morning I expected not to hear back from anyone until Monday or Tuesday. It was less than two hours later that you e-mailed me and let me know that you were going to call to discuss my problem that day. You did as you said and called me with-in an hour or two and gave me a quote over the phone and even offered to come out that day to make an emergency repair if needed. Since my situation wasn't an emergency you said you would have someone from your office call and schedule the work that afternoon. Again you did as you said and I received a call to schedule the work all on the same day that I first contacted you. The work was scheduled for the following Thursday between 3 and 5pm and as promised your crew showed up just after 3pm. Your crew did a great job, cleaned-up any trash, and everything works as promised. I couldn't be happier with the new opener and how quiet it is. The repairs you made to the springs, bearings, rollers, and cables look great and I'm confident that you installed quality materials and that I won't have a problem for a very long time. I now have a "garage door guy" I can refer to my customers, friends, and family to. Keeping your word and communicating with your customers sounds like a simple and easy concept but it's rare to find a service company that does those things these days. I picked your company because I hoped that a local family owned business would provide the level service that I wanted an you didn't disappoint. Thank you!
Jeramie keen is the man… we needed our garage door repaired Jeramie came out as soon as I called. Now that's the best service I have ever had thanks for everything
Catherine Johnson
2022-12-09
Great work, high quality materials. Installed quickly and professionally. Staff was friendly and knowledgeable. We're happy with the product and service. Glad there are still high quality, professional, and reliable companies like Keen!
5 Star Reviews (and counting)
Combined Years of Experience (and counting)
We install, repair and maintain all major brands of garage doors, gates and openers. For example, C.H.I, Wayne Dalton, Hormann Northwest Door, Clopay, Carriage House, Alumador, Martin, Liftmaster, Linear, Genie, Chamberlain, Craftsman and more.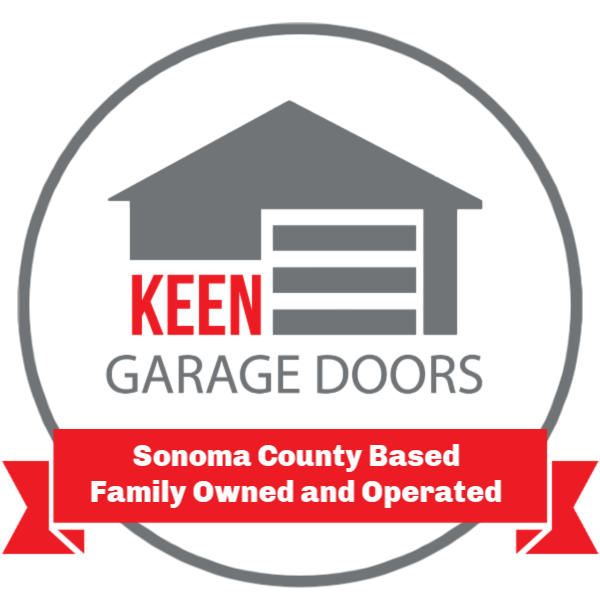 We offer garage door repair, sales and installation across the San Francisco north bay area including:
Sonoma County: Annapolis, Bodega Bay, Boyes Hot Springs, Camp Meeker, Cloverdale, Cotati, Duncans Mills, El Verano, Eldridge, Forestville, Fulton, Geyserville, Glen Ellen, Graton, Guerneville, Healdsburg, Jenner, Kenwood, Monte Rio, Occidental, Penngrove, Petaluma, Rio Nido, Rohnert Park, Santa Rosa, Sebastopol, Sonoma, Windsor
Marin County: Belvedere Tiburon, Bolinas, Corte Madera, Dillon Beach, Fairfax, Forest Knolls, Greenbrae, Inverness, Lagunitas, Larkspur, Marshall, Mill Valley, Nicasio, Novato, Olema, Point Reyes Station, Ross, San Anselmo, San Geronimo, San Quentin, San Rafael, Sausalito, Stinson Beach, Tomales, Woodacre
Napa County: American Canyon, Angwin, Calistoga, Deer Park, Napa, Oakville, Pope Valley, Rutherford, Saint Helena, Yountville
Lake County: Lakeport, Clearlake, Middletown, Hidden Valley Lake, Clearlake Oaks, Kelseyville, Lower Lake, Nice, Lucerne, Upper Lake, Cobb