New Garage Door Considerations
This garage door buying guide is designed to help you get started on your journey buying a new garage door. You might imagine that the garage door industry is not very big. The truth is, the garage door manufacturing industry in the United States alone is worth more than $3 billion every single year!
Garage doors are available in a wide variety of styles and types and there is almost certainly a garage door that will work perfectly for you. However, it can be tricky to find the perfect garage door. When considering a new garage door installation, the first thing you have to understand is what all of your options are. We've provided some information below to get you started.
Different Types of the Garage Doors
When it comes to garage doors, there are basically two things to keep in mind. One is the functional type of garage door, including considerations like choice of material and insulation. The other is the style of the garage door. There are a number of functional types of garage door but we'll focus on the most common.
You are probably familiar with what is called a sectional garage door. Sectional garage doors have several horizontal panels. You or a motor can then push the garage door up and the panels will hinge so that the door ends up parallel to the ceiling of your garage.
The other most common type is the rollup garage door. These are more common in commercial applications but can be found in some residential applications as well. In fact, rollup garage doors are basically like sectional garage doors but with a higher number of panels. Rollup garage doors are basically dozens of small horizontal panels with hinges in between them.
There are also side-hinged garage doors that are like giant regular doors. They swing horizontally on hinges to open and close. They can be a good choice if there is no room inside the garage for the garage door when it's opened.
Other Option Considerations
The design of your garage door is only one of the functional things to keep in mind. You also need to decide what material you want your garage door to be made out of. Additionally, you have to account for whether or not you are going to insulate your garage door. The material that you choose for your garage door will greatly affect its lifespan. Most garage doors are made of steel or wood. Many steel garage doors are available with textured wood patterns providing the durability of steel with the warm wood appearance.
Regardless of the kind of garage door you get, you will need to provide periodic maintenance including painting to protect your investment. You will need to paint a wood garage door more often than steel. Steel will last a long time and need less maintenance.
Insulated panels are another popular option. If you invest in insulation for your garage door, then your garage can become another comfortable place to hang out. Otherwise, it will probably be uncomfortable during the hottest and coolest times of the year.
Garage Door Styles: Traditional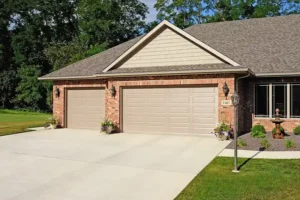 The traditional style include raised-panel garage doors offering a clean, classic look for your home's exterior. These garage doors are characterized by symmetrical, raised rectangular panels.
The typical traditional garage door will offer choices of the rectangle shape itself such as square, rectangle and short rectangle. Other options will include windows with different glass style options, colors and garage door panel insulation. Most garage door makers offer a variety of products in this class, with various options for construction and design including insulated and natural-wood options.
Garage Door Styles: Carriage House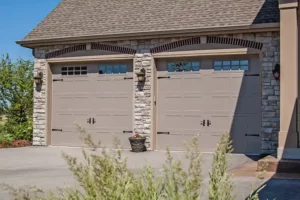 Carriage House doors, sometimes know as "ranch style" doors are very popular in the United States. They are often made out of wood or steel that imitates the appearance of wood and presents a warm ranch or farm feel. This class of garage door offers an incredible array of styles, limited only by the imagination.
The panels often resemble barn doors adding a rustic feel to the door. A wide variety of window styles are available and very common with this style. The door hardware really adds a detail to these doors that make them pop visually. If you are looking for something a little more than traditional while maintaining a warm inviting appearance, the carriage house style might be right for you. There are tons of choices in style, colors and options to fit every taste.
Garage Door Styles: Contemporary or Modern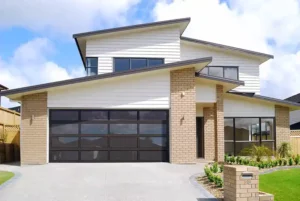 Contemporary garage doors are the result of modern advances in technology and aesthetics. They are much more likely to be asymmetrical than any other kind of garage door. You can see that same kind of asymmetry as a feature in modern art. These doors are the result of thinking outside of the box. That means that everything, including the color and the materials, is up for discussion.
The contemporary style door allows for almost any combination of materials and visual elements that are best suited for homes that feature a modern architectural design. The stunning visuals really add to the overall appearance of the modern home.
Choices, Choices and More Choices!
We don't usually think too much about garage doors – at least while they're working properly. But when the time comes to replace one, homeowners quickly realize that there are a lot of choices for replacement doors including budget and style. This garage door buying guide provides an introduction to some of the features and styles to consider. We encourage you to check out our preferred garage door vendors including C.H.I, Northwest Door, Carriage House and Clopay to see all they have to offer. As always, our team is ready and available to help with any questions you may have, click here to get in touch. Happy garage door shopping!
"Hands down the best service I have ever received. Jeremy and his crew are super responsive and provide excellent customer service. "
So impressive! I was out of town and our spring broke. My wife's vehicle was trapped in the garage. We were so concerned because my wife had to pick up the kids in a few hours from church. I called Keen garage doors (based off their great reviews) and Jeramie answered the phone . I explained everything to him and he put my family on the urgent list. They miraculously got to my house within a couple hours and got us fixed up. My wife was able to pick the kids up and everything worked great! The Technician was friendly and helpful gave my wife options of what to do. I definitely recommend this company and will refer to my family and friends in the future. Thank you Jeramie and Keen garage doors!
Patricia Seffens
2022-08-09
I cannot say enough about how awesome this company is. I wanted to stay local, and decided on Jeramie and his crew. I am so glad I did! I am super indecisive about big purchases/changes, and couldn't settle on a style of door...mainly because I knew what I wanted but couldn't articulate it. Jeramie had me text a pic of my house and within a minute he sends me a photo of exactly what my brain was thinking. He's got a great eye for style! The door arrived within the expected timeframe and scheduling the install was a breeze. His crew arrived on time and did the whole install in less than three hours. Polite, professional, clean, and obvious experts of the craft! Then of course I had tried to keep everything basic...one remote, no keypad, etc., and instantly regretted not ordering both. I reached out to Jeramie and asked to order them, thinking a 4-6 week turnaround. Nope, his installer came right over and in 15 minutes, I'm all set with the new equipment. The new door is gorgeous; perfectly fits the look of the house; super quiet motor; and the quality is top notch! Thank you Keen!
chproperty chproperty
2022-06-20
On a Saturday late night my garage door could not close. I called several companies. One promised they would come to check but never showed up. Then I called Jeramie's company. Dereck came on Sunday morning and did a excellent job to fix it. Follow their suggestion, I decided to replace rusted springs and 20more years old opener. Of course another excellent job was done by his team. And the previous fixing cost was deducted from this bill. Definitely I recommend this company for any garage works
I live in Cloverdale and needed to get one of my garage door springs fixed. I called 3 places as I always get 3 estimates. As I was leaving a message for Jeremy, he texted me and said he was with a customer, but would call me as soon as he was done. He called within a few minutes and was very pleasant and informative. I made an appointment right away, good thing I did as the other 2 companies I called and left messages for, never called back. Keen Garage Doors will be my go to company moving forward!
Had new garage door opener installed. Very quick response and good pricing. Installation went well but turned out there was factory defect with motor. They were quick to replace and correct with no problems. Highly recommend.
Jennifer Terwilliger
2022-06-03
Keen is the best! They came through for me in a pinch as no other company would. Price was reasonable, installation of new garage door and motor went flawlessly (under not so ideal conditions - angry tenant being evicted who damaged the garage door was onsite), and the customer service top notch. THANK YOU JEREMY! Great company **********
LeeAnn Keever-Norton
2022-04-04
Our 13 year old garage door somehow stopped closing all the way one day!! I'm sure we made it worse by forcing it closed. Keen sent someone as soon as their schedule permitted and he showed up exactly when we were told he would. It only took him an hour and a half from start to finish to remove the old bent tracks and install new ones, and to lubricate them. So thankful for this company and their timely and excellent service.
Hollis Prichard
2022-03-22
I HIGHLY recommend Keen garage doors. I received a quote from a competitor who recommended a total garage door replacement. I called Keen to come out for a second opinion. They were able to come out quickly and tell me that I needed just a few replacement parts; no replacement door needed. They saved me a lot of money and were able to provide quick and timely service. Josh and Jeremy are honest reliable, skilled and very reasonable. I will be using Keen Garage Doors for all future garage door needs. Thank you Keen!
Couldn't have been either easier or more professional. Keen garage doors came to me on a personal recommendation by a mutual friend. Everything done on time and as promised. All communications were clear, timely, and professional. Highly recommended. Oh and the pricing was good too. But actually that's not the most important factor to me. Truly a pleasure to deal with. Last thing. Jeramie, the owner, is personally and actively involved. That is a big thing to me.
Great job guys thanks for the help.
5 Star Reviews (and counting)
Combined Years of Experience (and counting)
We install, repair and maintain all major brands of garage doors, gates and openers. For example, C.H.I, Wayne Dalton, Hormann Northwest Door, Clopay, Carriage House, Alumador, Martin, Liftmaster, Linear, Genie, Chamberlain, Craftsman and more.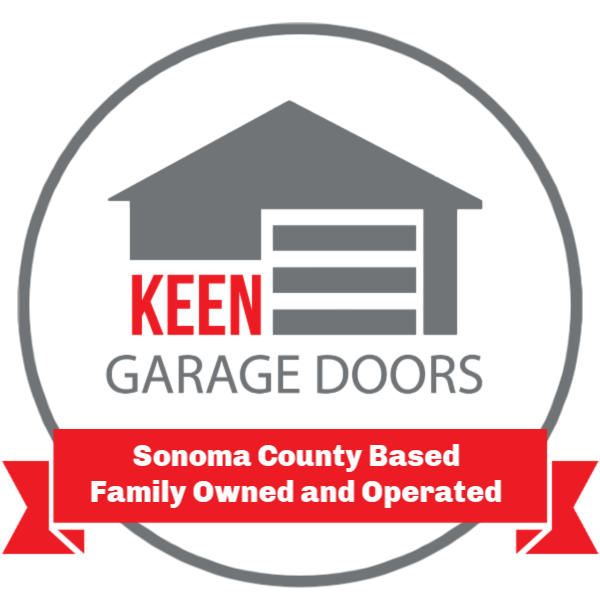 We offer garage door repair, sales and installation across the San Francisco north bay area including:
Sonoma County: Annapolis, Bodega Bay, Boyes Hot Springs, Camp Meeker, Cloverdale, Cotati, Duncans Mills, El Verano, Eldridge, Forestville, Fulton, Geyserville, Glen Ellen, Graton, Guerneville, Healdsburg, Jenner, Kenwood, Monte Rio, Occidental, Penngrove, Petaluma, Rio Nido, Rohnert Park, Santa Rosa, Sebastopol, Sonoma, Windsor
Marin County: Belvedere Tiburon, Bolinas, Corte Madera, Dillon Beach, Fairfax, Forest Knolls, Greenbrae, Inverness, Lagunitas, Larkspur, Marshall, Mill Valley, Nicasio, Novato, Olema, Point Reyes Station, Ross, San Anselmo, San Geronimo, San Quentin, San Rafael, Sausalito, Stinson Beach, Tomales, Woodacre
Napa County: American Canyon, Angwin, Calistoga, Deer Park, Napa, Oakville, Pope Valley, Rutherford, Saint Helena, Yountville
Lake County: Lakeport, Clearlake, Middletown, Hidden Valley Lake, Clearlake Oaks, Kelseyville, Lower Lake, Nice, Lucerne, Upper Lake, Cobb